Threat Preparedness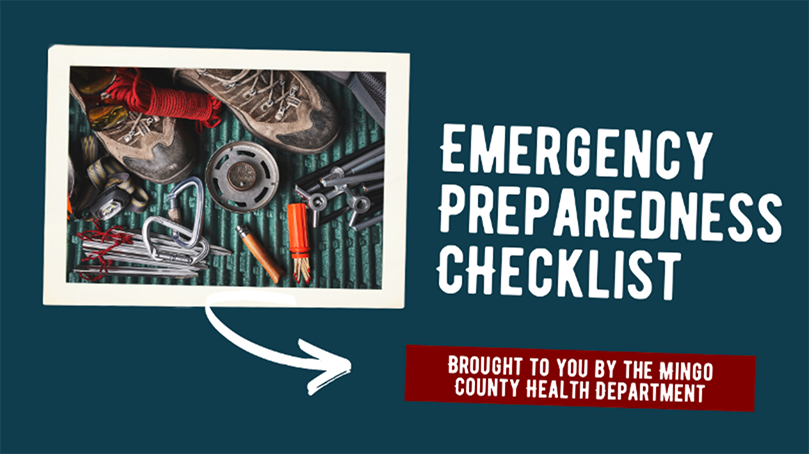 Build a Kit – Make a Plan
A Family Disaster Kit, with enough supplies to last three (3) days, should be packed in easy-to-carry containers (such as plastic totes, backpacks, etc.) , and include:
Water: Store water in plastic containers such as soft drink bottles. Store at least one gallon of water per person per day.
Food: Select foods that require no refrigeration, preparation, or cooking and need little or no water. Ready-to-eat canned meats, fruits and vegetables, canned juices, ultra-pasteurized or condensed milk, soup, peanut butter, jelly, crackers, food for infants, pet food, etc.
First Aid Kit: Prescription medications, prescription medication numbers and pharmacy numbers, sterile adhesive bandages in assorted sizes, 2-inch sterile gauze, 4-inch sterile gauze, adhesive tape, 2- and 3-inch roller bandages, scissors, tweezers, antiseptic, thermometer, petroleum jelly, safety pins, soap/cleaning agent, latex gloves, sunscreen, aspirin or pain reliever, anti-diarrhea medication, toilet paper, liquid detergent, feminine supplies, personal hygiene items, garbage bags, plastic bucket with tight lid, disinfectant, chlorine bleach, etc.
Tools and Supplies: Eating utensils, battery-operated radio and extra batteries, flashlight, cash, credit/debit card, non-electric can opener, pliers, tape, compass, matches in a waterproof container, signal flare, paper, pencil, whistle, map of the area, etc.
Clothing and Bedding: Sturdy shoes or work boots, rain gear, blankets or sleeping bag, hat and gloves, thermal underwear, sunglasses, at least one complete change of clothing and footwear per person.
Special items: Baby formula, diapers, bottles, powdered milk, medications, denture needs, games and books, etc.
This list of emergency supply kit items is only a starting point. It is important that individuals review this list and consider the unique needs of their family, including pets, for items to include. Individuals should also consider having at least two emergency supply kits, one full kit at home and smaller portable kits in their workplace, vehicle or other places they spend time.
---
Kit Storage Locations
Since you do not know where you will be when an emergency occurs, prepare supplies for home, work and cars.
Home: Keep this kit in a designated place and have it ready in case you have to leave your home quickly. Make sure all family members know where the kit is kept.
Work: Be prepared to shelter at work for at least 24 hours. Your work kit should include food, water and other necessities like medicines, as well as comfortable walking shoes, stored in a "grab and go" case.
Car: In case you are stranded, keep a kit of emergency supplies in your car.
Maintaining Your Kit
After assembling your kit remember to maintain it so it's ready when needed:
Keep canned food in a cool, dry place.
Store boxed food in tightly closed plastic or metal containers.
Replace expired items as needed.
Re-think your needs every year and update your kit as your family's needs change.